A picture is worth a thousand words. And an improperly sported Roberto Cavalli is worth more than Dulcolax Stool Softeners; so why does Miley's pose scream constipation?
Mira mamita, stop trying to be miss thang. We've all seen this before, first you think you is a runway model then you's showing your cooch off all over TMZ. Her toe is curled like something got stuck somewhere up in one of those crevices.
You is not grown folks. Stick to your Hanna Barbera or Hanna Nebraska business. (I dont know what her Sasha Fierce is called.)
Also out and about on the night scene, trying to act like they stylin... Rihanna.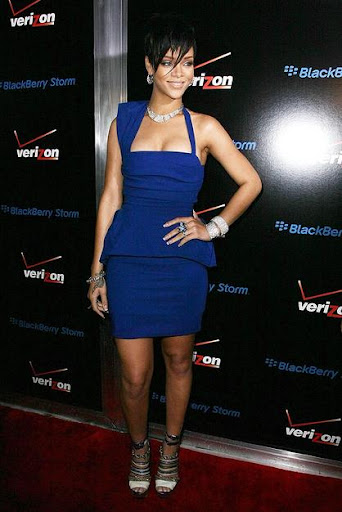 Sporting her favorite colors... black and blue. I hear Chris loves her in those colors too! I guess its politically incorrect to make fun of the victim. Yah... oh well.
Another ho, with more money than she got style, Angelina Jolie.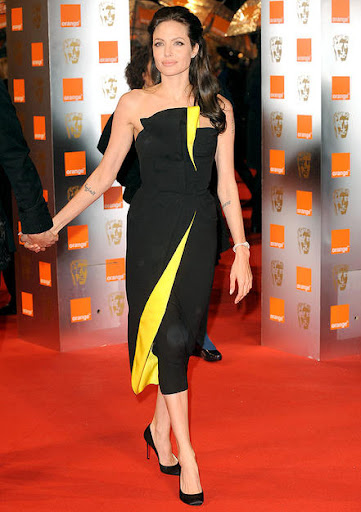 The upper half of the dress is ok. The bottom half looks incomplete or short. Those colors are too boring! What was Versace thinking?! Leave the primary colors to Tommy Hilfiger. I expect better from Versace (I'm sporting a Versace knit today). I'm sure the black tights underneath the dress was
not
recommended. There is no way. Maybe she is gonna go to the gym after the red carpet? I think I speak for all men when I say flesh tone lips are nasty. Whether or not you add color to them is your personal preference, but don't take away the natural color! Maybe that is her natural lip color... ew. Brad Pitt just lost cool points for associating with that.