I was browsing some blogs and came across this picture. There's something so yummy about scruffy, dick grabbing Brits. Oh who am I kidding? We all know the real reason I'm aroused: TUBE SOCKS!!!!!!!!!!!!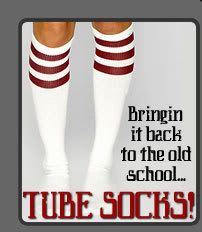 Maybe if my ex wore these instead of those God forsaken ankle socks, I would've
swallowed
been less of a bitch. He used to put on these stupid white ankle socks that barely covered his feet right after molesting his entire body with a jar of Vaseline. The smell of hot petroleum jelly didn't help the situation either.
Another thing that turned me on today was my bank account. I should have taken a screen shot of it at 2AM when my full paycheck was deposited, clearly by mistake, but I was too excited. By 6AM, it was all gone. WHOMP WHOMP!! I won't take a screen shot of it now because it's VERY pathetic...especially after my deductions make it look like I get paid like 7 dollars (per hr) LESS than I actually do. I'll just say that at 2AM my checking account was looking realllll fuckable.
FUCKABLE:
my new co-worker. His sex appeal has a lot to do with the lack of men working in my department. There's William, the barely legal (19), baby faced accounting major. There's "Sam" (whose name has been changed because it was wayyy too uncommon), the cross between Akon and Omar Epps. He has 10 years on me and is somewhat of an office father figure. If it wasn't for that and my strange respect for his wife.......................
Anyway, there's a new guy here now. We'll call him Isaac to protect his identity. After talking with him a few times, my gaydar starting humming the tune to Dancing Queen.
He's cute. He reminds me of
Frankie Hubbard
on All My Children. Maybe I saw him and immediately gave him Frankie's personality...ultimately making him fuckable. I don't know what it is, but that dancing queen can feel the beat from my tambourine anytime he wants.
I let this other dude
feel the beat from my tambourine
this weekend....and beat it, we did. I woke up with a nearly detached nipple. Being the texthibitionist that I am, I was gonna write about the experience, but the Malibu, Belvedere, Peach Schnapps infused orange juice I drank the night of the incident is keeping me from remembering exactly what happened. I questioned Quincy (the culprit whose name has been changed because he looks more like a Quincy than whatever the hell his name is...and I'm pretty sure I screamed that out a few times), but he didn't remember on account of whatever he had in that SoBe bottle.
It sure as shit wasn't the Black & Blue Berry Brew juice on the label because Black & Blue Berry Brew juice does NOT turn your eyes dark pink and force you to go from a shy, soft spoken guy to an S&M pro. Well, I wouldn't exactly call him a PRO because a pro wouldn't leave you scarred and disfigured the next day.
Anyway, this is about what has me aroused today. I'm not turned on by the need to probably have my nipple sewn back on. It's all about being able to explain to random strangers why I'm in pain and whip out my tit for them. That's always fun.