(mostly because the Dream Weaver song is stuck in my head)
I'm having a pretty awful couple of months. It's to be
expected
, but yesterday was just one of those unbearable days that sent me on a detour from my office to the liquor store (when I should've been in class). By 9pm, I had finished a bottle of wine and was singing 70s/80s television theme songs via voicemail for my friends. By 11pm, I was passed out in bed. I had the strangest dream....
[insert dream sequence arm flail]




I was in a room arguing with my best friend (who happens to be a black man), and before I could even begin to defend my actions, he verbally made me feel [this small] and I was defeated. I wanted to say something. I knew what to say, but I began to choke on my words...LITERALLY throat-grasping-choking. Whenever I tried to speak, I couldn't breathe. Whenever I stopped trying to speak, I was fine. I gave up. I couldn't fight a battle against how he felt because those were HIS feelings. Who was I to say "I didn't make you feel this way" if his feelings were genuine and they belonged to HIM? Now all of this made sense to me and if I woke up at this point in the dream, I would've understood it...but I didn't wake up. Next, my best friend (black man) was a white woman. She kinda-sorta looked like Jennie Garth back in her 90210 days, but she had down turned, brown eyes and wore red lipstick.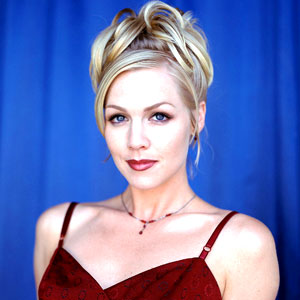 She was naked, vulnerably sad, and in love with me. I was sad, in love with her and wanted to please her and make things right between us. So, I did. It was passionate, aggressive (but soft) love making, and we were very vocal about our feelings toward one another.
...and then I woke up.
I'm straight. Sure, women are beautiful, but that's not for me. I haven't been emotionally attached since March...and that was an attachment to my cat that I had to give up. My best friend is a gay, black man that I think of as a brother. We're not having any issues. We talk every day. I don't even know anyone who fits Jennie Garth's description. Before I googled pictures of her for this post, I hadn't seen her since April of 2008 when I read on a blog that she'd be joining the cast of the new 90210. I don't know what this dream means and it makes me angry that *THIS* is defining my day.